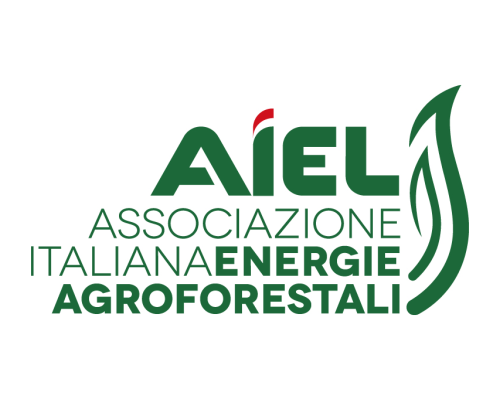 AIEL
Associazione Italiana Energie Agroforestali
AIEL Italian Agroforestry Energy Association is a private non-profit organization founded in 2001. AIEL aims to promote, stimulate and disseminate the use of solid biomasses as renewable energy sources in Italy. AIEL covers and represents all the steps and sectors of the whole wood-energy supply chain, working together with institutions, organizations and privates, i.e. forestry operators, forest owners and entrepreneurs, biomass producers and traders, farmers as well as manufacturers and retailers biomass heating systems. Currently, AIEL counts on approx. 500 members, of which more than 150 are active in the field of solid biofuels from forestry and agricultural sector. AIEL operates on different working lines: technical consultancy, market observatory, advocacy and policy. Furthermore, AIEL promotes the network and aggregation of both SMEs and bigger players, in order to foster the added-value of the Italian forestry sector.
Since 2006 AIEL has become member of the European Biomass Association (Bioenergy Europe) and is also member of the governing board of the "Coordinamento FREE" (Coordination of Renewables Resources and Energy Efficiency), which promotes the development of renewables and of energy efficiency, through cohesive actions among the Associations and the Institutions. AIEL embraces also the vision of the Forest Stewardship Council®, being associate to FSC Italia. Since several years, AIEL is active in the sector of quality and product certifications. In fact, AIEL is recognized as the Italian national licenser for the ENplus® (premium pellet) and BIOmasud® (Mediterranean fuels) schemes, and owner of BiomassPlus® (woody biomasses) and AriaPulita® (domestic heating appliances) certification schemes.
Since its establishment, AIEL invested in the communication and dissemination, through its quarterly technical journal "Agriforenergy", releasing newsletters to associates and stakeholders, creating and managing websites (www.aielenergia.it ; www.energiadallegno.it), as well as maintaining other communication channels and of a press office. Moreover, AIEL is the technical partner of the biennial international biomass trade fairs "Progetto Fuoco" (www.progettofuoco.com) and "Italia Legno Energia" (www.italialegnoenergia.it).